Ronald Bagliere:
Narrated by: Duffy Weber
- A Second Chance to Get It Right

60, divorced and his kids hate him. If only he could get a do-over.
After an accident, he may just get the chance.
- Out of the Rubble
Narrated by: Duffy Weber
When Binod and Sila Thapa lose their children to human traffickers, Binod's friend Mick Hanson and his girlfriend come to their aid. But with the devastation of the city and the authorities overwhelmed from the quake, finding the children seems impossible.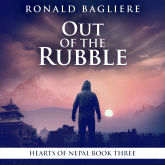 ---
William H. LaBarge:
Narrated by: Duffy Weber
- Lightning Strikes Twice

Thrilling military suspense novel with action, high stakes aerial combat,
and a life-or-death covert mission
---
Douglas Lumsden:
Narrated by: Duffy Weber
SERIES:
ALEXANDER SOUTHERLAND MYSTERIES

Alex Southerland Urban Noir Fantasy Series:

Alex is a hard-boiled detective with a rough past who stumbled across his career by accident. Since then, he's been trying to make heads or tails of the problems an endless string of shady, dangerous, and sometimes outright zany clients drag to his doorstep. Corrupt troll detectives; violently homicidal water nymphs; Alex is going to need all the help he can get from his friends: a smartass gnome lawyer, an air elemental assistant, and a charming if timid were-rat sidekick.
Alex Southerland, private eye, is relaxing in his favorite bar when a detective (and a VERY large troll, to boot) sits down and tells him about a case involving a missing girl. A case that he insists Alex have absolutely nothing to do with. For better or worse, our private eye doesn't like being told what to do and sets off to find his own answers..
- A Witch Steps into My Office
Alex isn't as thrilled as most PIs would be if a gorgeous dame showed up at their office late at night. This one, however, is the most powerful witch on the continent, and has just explained she's murdered someone. Oddly enough, the 'murdered' man seems to still be alive and walking around, and Alex wants to keep it that way. Even if the guy's kind of a jerk.
Working for the rich and powerful can be rewarding. Or a total pain. Alex relives bad memories when the mayor calls in his assistance to deal with the mysterious woman in white - a ghostly, horrific seductress with deadly intentions. By why has she set her sights on the mayor? And what is she, really? Just a stalker, or something more sinister? Alex has his hands full, and the mayor's life (and more importantly, election) rest on Alex's shoulders as he teams up with a cadre of trolls to keep mayor Teague our of harm's way, despite his ability to find trouble every waking moment..
---
Brian J. Wagner:
Narrated by: Duffy Weber
- A Solitary Man

A homeless man who lost it all gets a second chance after saving a wealthy
lawyer's daughter, when he's hired to transport boats for a charter company.
little does he know that's not all he's transporting...
---
Duffy P.Weber:
Narrated by: Duffy Weber
SERIES:
DRACHEN
Daavi and Millie aren't really your typical couple. Millie's a charming, middle aged restaurateur. She's also a six-foot-nine Drachen who has happily spent all of her 43 years on a tourist-heavy island, running an inn, along with her half-Drachen daughter Rinn.
Daavi, her childhood friend (and communications expert by trade - all of 58 kilos worth of human, soaking wet) comes running when an epidemic threatens the island where he grew up with Millie, dragging his employees along for the ride to help coordinate the relief effort. Millie has a pretty big surprise in store for him when they reunite after his 20-year absence.
There's no telling what the two will get into next. From epidemics to running from deranged cults, from hurricanes to airlifting iguanas, Daavi and Millie are always up to something, and you can bet money: it's going to be weird.
A delightful fantasy interspecies rom-com series that'll have you wondering what's next, and coming back for more.
After being apart for 20 years, best friends Daavi and Millie team up to help stop an epidemic, along with Daavi's employees, and Millie's half-Drachen daughter, whom Daavi has never heard about...
Millie and her daughter Rinn go to the city to visit Daavi and Fitz. Millie and Daavi are hoping to spend some quality time together. But between Millie feeling under the weather, Daavi going missing, Rinn's grandmother being a huge pain in the... tailfethers. It's one heck of a trip. And that's before the corporate spies and drug dealers show up. Life sure is different in the city.
Alex is bored. He's burned out on work, and wants a change. So he swaps assignments with Daavi. Alex drags his colleague Vivica out to Daavi and Millie's island to work on the tower, and Daavi and crew head out to a nature preserve to install the systems there. But Alex learns that the weather in the tropics isn't always nice, and just because you're in a new place doesn't mean problems don't follow you . And Daavi learns you can find new ones anywhere, when someone sabotages the jobsite...
Daavi and Millie THINK they're in for a treat. Daavi and Fran are sent on a trip to a prosaic, luxurious city - a foreign capitol - for work, and Daavi brings Millie and the kids along for the ride. A few days' worth of work and they'll get a well-deserved vacation, all while being paid handsomely. But they're working both for the government, and with a church that isn't what it seems, and the head honcho seems to have his fingers in all the pastries...
Daavi and Millie, ignoring all past experience with the term 'adventure,' have signed on for one. Trooping out to a hot, dusty island, they're to help gather lizards to make antivenom. Only they're not alone. An unwelcome face from Millie's past shows up. Daavi tries to get along with him, but it's not going well. And Rinn and Fitz have trouble landing in their own laps as a mysterious redheaded girl seems to want to insert herself into their lives.
- Drachen 6: [Coming soon!!]